Words and Photos by Tim Binks.
It was a long night, deep in the backcountry, wondering if we were going to need a helicopter to extract my touring partner and fellow Kiwi, Ruari Macfarlane. The last thing I was expecting from him the very next day was an epic stale fish grab high up on our exit route!
In April of 2015, Ruari Macfarlane and I undertook a split boarding mission into Yoho National Park in the Canadian Rocky Mountains. The objective was primarily to porter food into the Stanley Mitchell Hut for one of the local guiding companies. However, we were also primed for some big mountain exploration and were keen to check out the hut itself, which we had both heard so much about.
---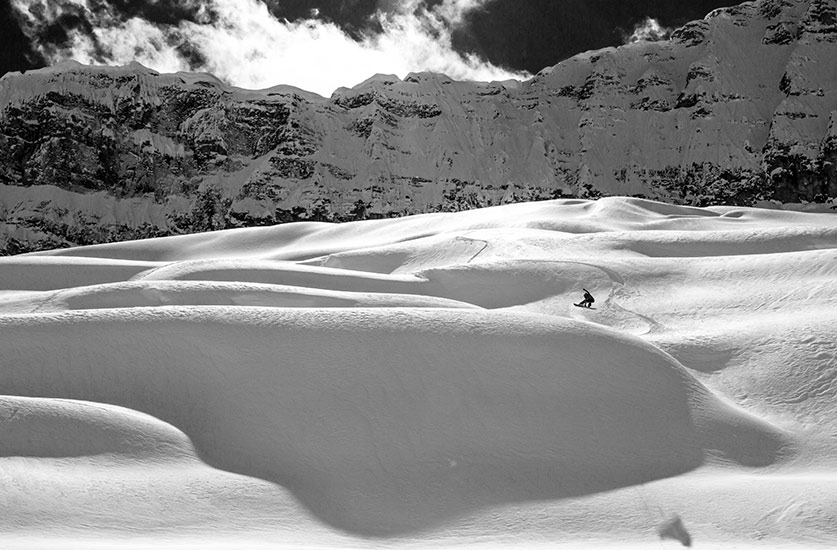 Ruari, Stale fish, Yoho rollers
---
It was a solid afternoon grind to the first camp, breaking trail in sticky spring snow conditions. Every few hundred meters we were pausing to battle with the relentless snow building up on our skins and bindings. As we pushed into the Yoho Valley avalanche country, the snow build up became the least of our worries. It was a humbling experience darting across the size-four avalanche paths, one at a time, with the evidence of previous destructive slides all around us. When we arrived late evening at the deserted and frozen Takakkaw Falls campground, we were relieved to find the cook shelter in tact and stocked with firewood. After a smoky but good night's sleep on the picnic tables we were ready to bust a trail up the valley and tackle the switchbacks on Laughing Falls Hill. The sticky snow theme continued as the day started to warm up, stifling our progress but not our enthusiasm to get to the hut.
The stoke factor was high after finally arriving at the Stanley Mitchell Hut and discovering it was everything we had heard and more. The hut and surrounding area epitomizes a true backcountry experience in the Canadian Rockies. The hut is a beautiful log cabin set in a stunning snow- covered meadow below the towering President Range. From the front of the hut we had dizzying 360-degree views of the mountains and big lines you feel you can reach out and touch. It would have taken us a month to ski every line we could see from the front door. Simply put, this was a candy store for big mountain adventurers.
Within hours of arriving at the hut, Ruari had deteriorated from the guy I had just seen porter the equivalent of four weeks of food (plus his own supplies) to a chap barely able to pick himself up. He had come down with a gnarly stomach bug, which had hit him like a sack of potatoes.My expedition partner falling violently ill wasn't the only surprise that afternoon; shortly after us a party of four arrived at the hut. Among the group was Barry Blanchard, a living legend of the climbing world. Barry was, as to be expected, a wealth of knowledge with his decades of experience in the area. The group was a big help with good information on conditions, as well as hydration packs for Ruari – who we'd set up in the top dormitory in an attempt at quarantine. As night fell there was no shortage of good stories and laughs, all helping me take my mind off the seriousness of Rauri falling ill in the backcountry.
---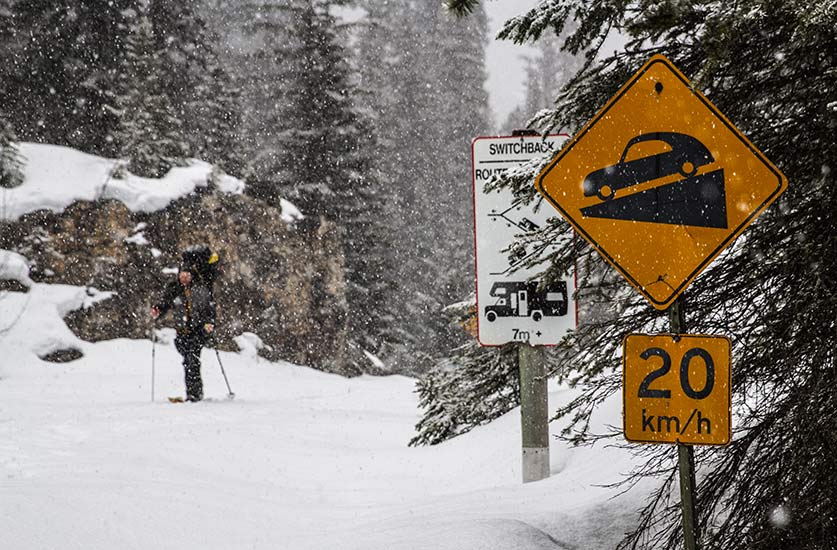 ---
Puking on the road to Takkakaw falls
Day three rolled around and Rauri had appeared to have made a remarkable recovery. He was eager to get amongst and chomping at the bit to get into some big lines. We set out with big plans but it became clear after only a couple of hours touring that Ruari still wasn't operating at 100 per cent. We made the good decision to focus on getting out in one piece.
We hit a solid bunch of lines as they presented themselves on the exit route, and had a ball shredding in some of the most aesthetic mountains I have ever been in. After 22 kilometers of touring through sticky conditions where we could travel uphill without skins and some truly memorable lines, our 11 hour day on the snow was done.Well almost done … on arrival at an empty Emerald Lake car park at 7:30 p.m. it became clear that our original plan to hitch back to the car wasn't looking so flash. Luckily, there were welcome sounds of a builder hammering away in the barren lake front hotel. After a bit of negotiation we were on our way back to the car.
As you can see on from the photos we got on the way out, Ruari at well below 100 per cent was still charging and we got to see some amazing country on a route not often used in the winter.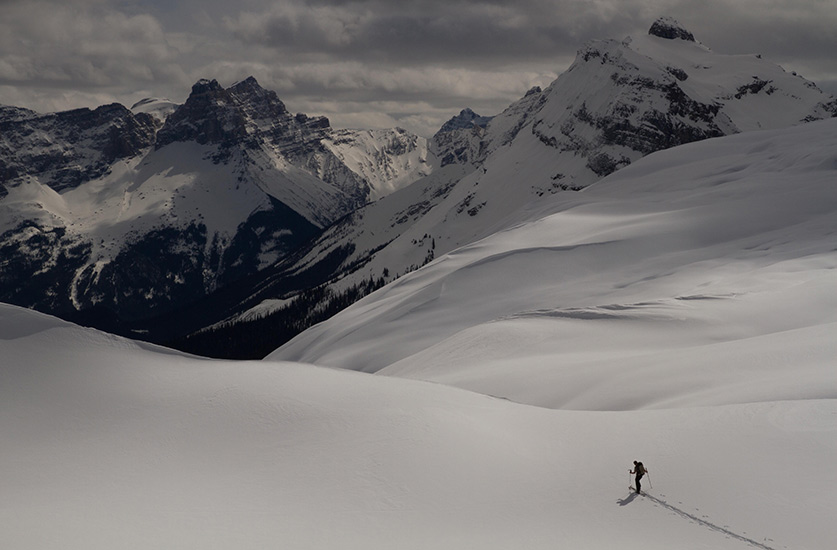 Ice line exit route above little Yoho Valley.