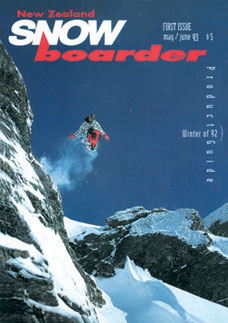 ISSUE 1 – MAY 1993
RIDER: Jason Ford
LOCATION: The Remarkables
PHOTOGRAPHER: Ken Achenbach
Our first ever issue is a whopping 48 pages – 16 in colour! American pro Jason Ford graces the cover with a rock leap at The Remarkables during the epic season of '92. Phil Erickson writes our first Onset, claiming 2 feet of fresh on the ground in Christchurch, and raving about a tow session in the streets behind a Valiant. We have a Product Guide, an Area Preview, and a feature on the Winter of '92 including photos of Jason Ford, Sean Johnson, Masa Ogawa, and World Champs Kevin Delaney and Mike Jacoby. It seems the snowboarding world has discovered New Zealand; other overseas visitors include Quinn Sandvold, the Fall Lines Films crew, Nick Perata, Shawn
Farmer, Matt Goodwill, Ken Achenbach, and Don Schwarz.
---
Click on icons below to see enlarged cover images.