---
AVAILABLE ON THE APP STORE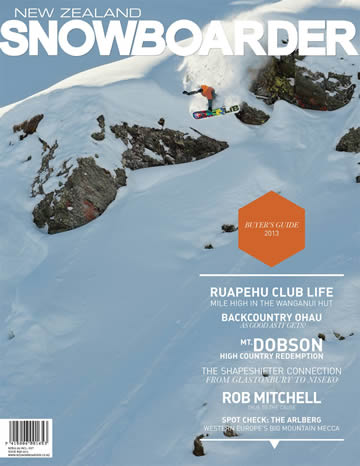 ISSUE #58-MAY 2013
Available on the APP store
HIGH COUNTRY REDEMPTION: Heavy hitters Nick Hyne, Brown, Stef Z, Connor Harding and Jake Koia get it good at Mt. Dobson.
INTERVIEW-ROB MITCHELL: True To The Cause: We get to know one of the countries snow/skate/surf super talents.
RUAPEHU CLUB LIFE: Scott Heale, Ruari McFarlane, Leroy Christenson, and Colin Boyd check out the Wanganui Ski and Snowboard Club on slopes of Whakapapa
BACKCOUNTRY OHAU: New Zealand's family run gem turns it on.
BUYERS GUIDE 2013: In depth info and advice on what to rock this season
SHAPESHIFTER – Making Connections. A catch up with band members PDiggs and Sam Trevethick on shredding in Japan.
---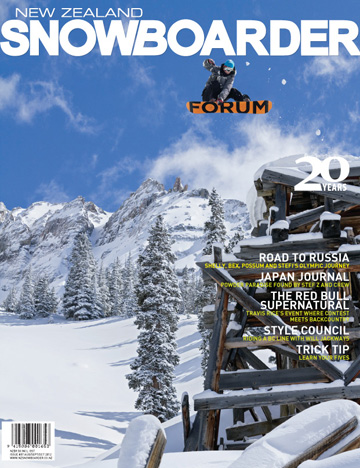 Issue #57-Aug/Sept/Oct 2012-
Available on the APP store
ROAD TO RUSSIA… Countdown to the 2014 Winter Olympics…Editor Ste'en Webster talks to four of our top female riders about their goal to ride at the next Winter Olympics in Sochi, Russia.
JAPAN JOURNAL… Paradise found! Stef Z, Nick Hyne, RMB, Browner and Heath Patterson immerse themselves in Japanese culture and powder.
THE RED BULL SUPERNATURAL…Changing up the game…Dylan Butt catches up with snowboarding's big thinker Travis Rice and talks about his ground-breaking event, The Red Bull Supernatural. 
STYLE COUNCIL…Finding your line with Will Jackways.
TRICK TIP… High fives with Milu MA.
---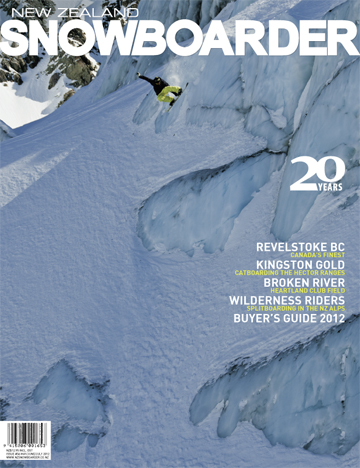 Issue #56-May/June/July 2012
Available on the APP store
REVELSTOKE…Unmasking the Process. Scott Heale hosts Greg Roebuck, Nick Brown and Ruari MacFarlane at one of BC's top shred destinations.
KINSGTON GOLD… Will J, Mark Anderson, Milu MA and Hamish Martin explore a new Cat operation at the foot of Lake Wakatipu.
BROKEN RIVER…A Canadian Perspective. Canuck photographer Todd Easterbrook hits the road from Wanaka to BR in search of the Holy Grail.
WILDERNESS RIDERS…A Journey into the Southern Alps. Shane Orchard and crew tackle an epic splitboarding mission.
BUYERS GUIDE 2012… Our most extensive yet! An in-depth look at the new product available in New Zealand this winter.
---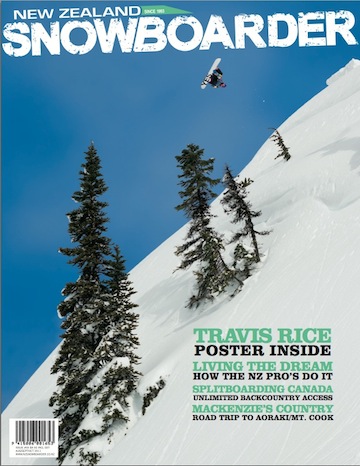 Issue #55-Aug/Sep/Oct 2011
Available on the APP store
( check a preview below )
LIVING THE DREAM…NZ's top riders tell what it takes to ride 24/7.
SPLITBOARD MAGIC… Kiwi rider Scott Heale scores epic Revelstoke thanks to his splitboard setup.
MACKENZIE'S COUNTRY…Nick Hyne and friends hit the road for some of NZ's highest terrain in the Aoraki/Mt Cook National Park.
BLUEGRASS AND POWDERFIELDS…Senior photog Vaughan Brookfield heads to Jackson Hole with a crew  intent on sampling more than just Wyoming's snow!
---
Issue #54-May/June/July 2011
Available on the APP store
Olympus… A Lesson in Priorities.
Nicolas Muller – Interview: One of the Worlds best riders gives his viewpoint.
Buyer's Guide: Check out the latest gear… boards, boots, bindings, goggles and outerwear
Fox Peak: Canterbury's secret club field uncovered.
Jake Koia Poster
Gallery
---
Issue #53-July/August 2010
Available on the APP store
Style Council: Back 900′s never looked so good… Kazuhiro Kokubo shows how its done!
The Real Alaska: Shane Orchard and Ruari McFarlane test themselves on the "North Shore" of snowboarding
Freedom: The best of the best
Take It All In: Road trip down south with the Jackway's bros
The Zone: Hyner and crew score a hidden gem in Washington
---
Issue #52-May/June 2010
Available on the APP store
Ruapehu – King of the North: NZ's biggest resort delivers the goods
Stef Zeestraten – Interview: The kiwi Dutchman that flys
Buyer's Guide: It's time to pimp your ride!
Double or Nothing: A closer look at the double cork with Luke Mitrani
Olympics: Kiwis take on the World Stage
Shot: Nuff said…