DIGITAL VERSION- AVAILABLE ON 'ITUNES' AND AT 'MAGZTER.COM'
---
ISSUE #63-WINTER 2017
THE ROAD TO MT BAKER-Deni Bevin's pilgrimage to Mt. Baker's Legendary Banked Slalom.
RAJAH'S HUT– Alex Stewart returns to Gulmarg, India to catch up with an old friend, along with the Rusty Toothbrushes in tow.
HELLO OLD FRIEND– Stef Zee and crew get reacquainted with TC's summit, early season.
CHASING NARNIA– Mike Handford discusses the in's and out's of exploring the mountains and bars of North America by camper van.
SIDE COUNTRY SAFETY CHECK– Check yourself before you wreck yourself, and know the snow before you go! By Shane Orchard.
AOMORI SPRING RESORT– Northern Japan lightens it up for PE, Rob Mitchell, Will J and Jack Spence. By Rob Mitchell.
---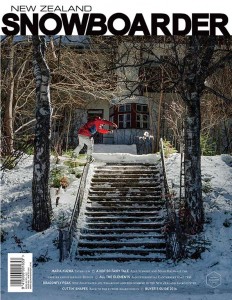 ISSUE #62-WINTER 2016
JOURNEY TO DRAGONFLY PEAK- Stef Zee gets out into the big wide open on his splitboard for an overnight backcountry excursion
A NOT SO FAIRYTALE- Alex Stewart takes us on a mission through Austria and France with Mahi Mains and the Rusty Toothbrush crew
MARIA KUZMA INTERVIEW- We shed some light on one of our top female snowboarders who's been quietly pushing the boundaries in all warps of life. By DB.
ALL THE ELEMENTS– Nick Hyne and the 'Diaries' crew catch up with pro surfer Blake Thornton for a classic Canterbury road trip.
BUYER'S GUIDE 2016– Time for a bit of retail therapy? It all starts here with the newest gear for 2016.
---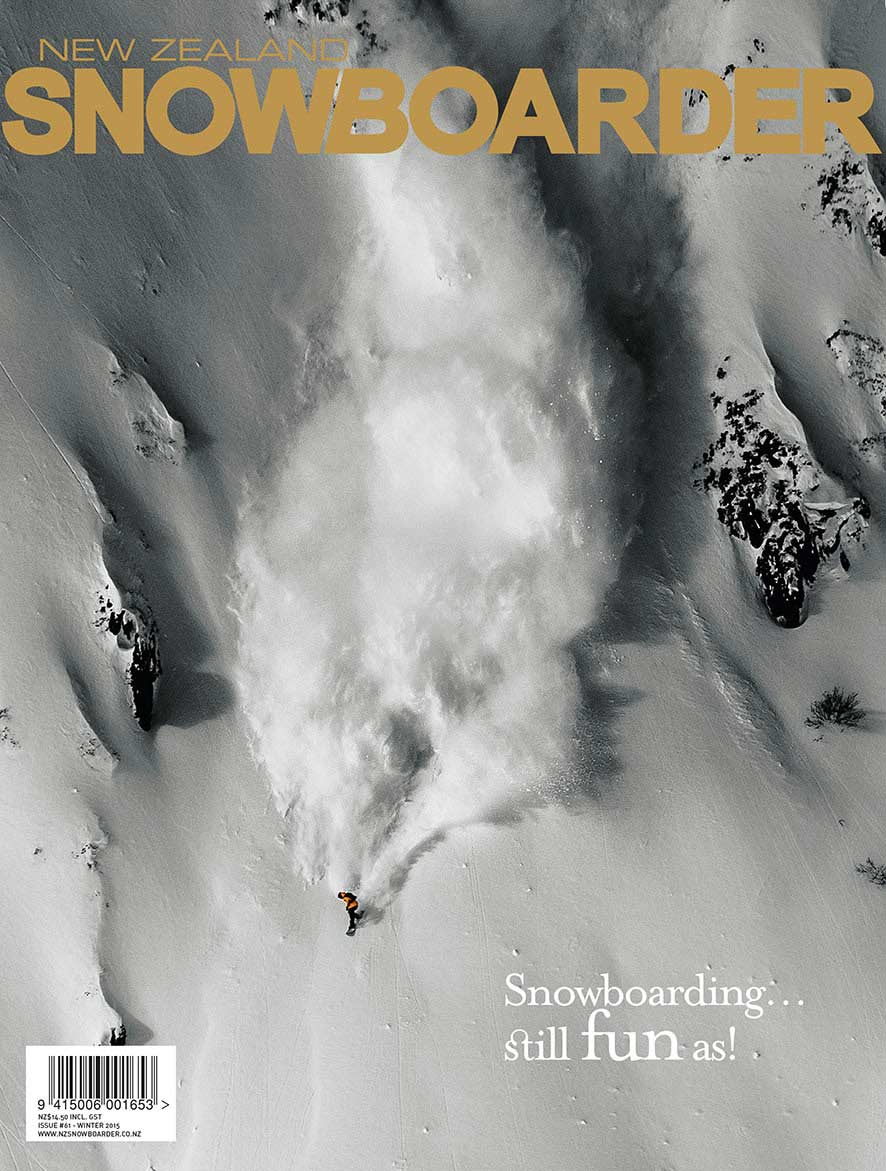 ISSUE #61-WINTER 2015
SEASON OF THE SADDLE–   With low tide conditions across the country, Treble Cone's 'Saddle proved the place to be for much of '14. We went, and scored it large!
SPRING COMEBACK – Late Season Reprieve in the Clubbies-  A classic Canterbury road trip gone right with Will Jackways, Shin Biyajima, and Mack James.
BUYERS GUIDE 2015 – All the wickedest kit you could ever need with a few pre-purchase hints from Nick Hyne.
RAGS TO RICHES – Alex Stewart, snowboard innovator and super motivator lets us in on four-legged snowboarding, homelessness and fast times in Europe.
---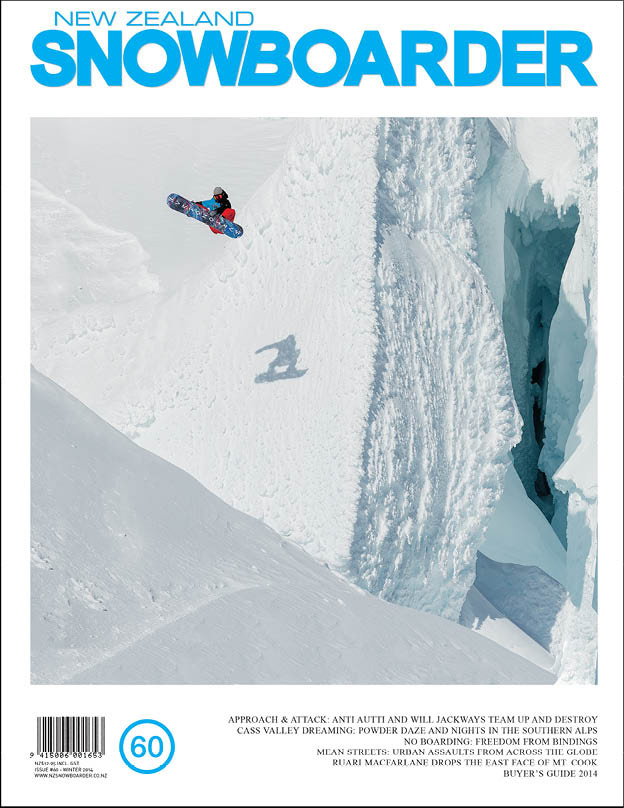 ISSUE #60-WINTER 2014
APPROACH AND ATTACK– Antti Autti and Will Jackways take to the skies on an aerial assault of the Southern Alps
CASS VALLEY DREAMING– Will Jackways Connor Harding, and Stef Z, half a metre of fresh snow, one backcountry hut, two nights, and three all-time days of riding.
MEAN STREETS– An exploration into the urban riding theory with Ollie Hanbury Webber, Mahi Mains, and Alex Stewart.
BUYER'S GUIDE 2014– A run down on hard goods from snowboard maker Scott Heale
THE EAST FACE– Ruari McFarlane's first descent of Mt. Cook's East Face, and a tragedy no one could've predicted.
SOCHI 2014 OLYMPICS, RUSSIA
---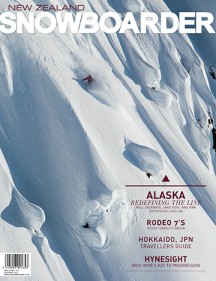 ISSUE #59-August 2013
Available on Apple iTunes
ALASKA – Redefining the Line: Ever wondered what Alaska is really like? We bring you a little history and get a live and direct account from three of New Zealand's top riders about their experience in 'the last frontier'.
HOKKAIDO – Travellers guide: Hokkaido over stayer Joel Westcot shares some valuable info on the places, parties, people and powder
OLYMPICS 2014– Ste'en Webster looks at what's in store and who's headed to the Winter Games.
OUTER REALM- Kiwi snowboarder Andy Lagan rides the north face of Aiguille du Midi in Chamonix
HYNESIGHT– Nick Hyne unveils his own secrets to progression.
TRICK TIP– Christy Prior takes us to school with a FS Rodeo seven.
---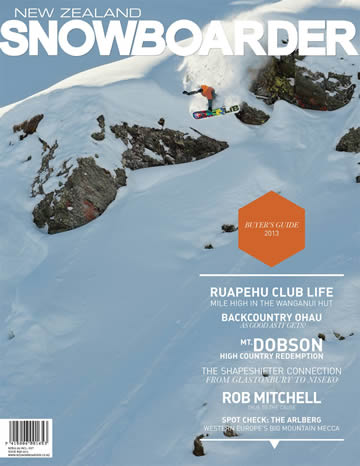 ISSUE #58-MAY 2013
Available on Apple iTunes
HIGH COUNTRY REDEMPTION: Heavy hitters Nick Hyne, Brown, Stef Z, Connor Harding and Jake Koia get it good at Mt. Dobson.
INTERVIEW-ROB MITCHELL: True To The Cause: We get to know one of the countries snow/skate/surf super talents.
RUAPEHU CLUB LIFE: Scott Heale, Ruari McFarlane, Leroy Christenson, and Colin Boyd check out the Wanganui Ski and Snowboard Club on slopes of Whakapapa
BACKCOUNTRY OHAU: New Zealand's family run gem turns it on.
BUYERS GUIDE 2013: In depth info and advice on what to rock this season
SHAPESHIFTER – Making Connections. A catch up with band members PDiggs and Sam Trevethick on shredding in Japan.
---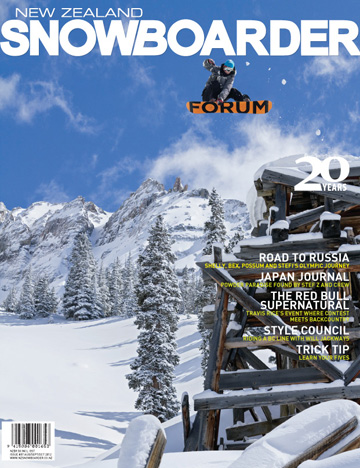 Issue #57-Aug/Sept/Oct 2012-
Available on Apple iTunes
ROAD TO RUSSIA… Countdown to the 2014 Winter Olympics…Editor Ste'en Webster talks to four of our top female riders about their goal to ride at the next Winter Olympics in Sochi, Russia.
JAPAN JOURNAL… Paradise found! Stef Z, Nick Hyne, RMB, Browner and Heath Patterson immerse themselves in Japanese culture and powder.
THE RED BULL SUPERNATURAL…Changing up the game…Dylan Butt catches up with snowboarding's big thinker Travis Rice and talks about his ground-breaking event, The Red Bull Supernatural. 
STYLE COUNCIL…Finding your line with Will Jackways.
TRICK TIP… High fives with Milu MA.
---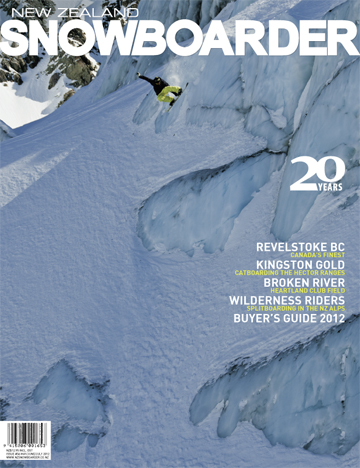 Issue #56-May/June/July 2012
Available on Apple iTunes
REVELSTOKE…Unmasking the Process. Scott Heale hosts Greg Roebuck, Nick Brown and Ruari MacFarlane at one of BC's top shred destinations.
KINSGTON GOLD… Will J, Mark Anderson, Milu MA and Hamish Martin explore a new Cat operation at the foot of Lake Wakatipu.
BROKEN RIVER…A Canadian Perspective. Canuck photographer Todd Easterbrook hits the road from Wanaka to BR in search of the Holy Grail.
WILDERNESS RIDERS…A Journey into the Southern Alps. Shane Orchard and crew tackle an epic splitboarding mission.
BUYERS GUIDE 2012… Our most extensive yet! An in-depth look at the new product available in New Zealand this winter.
---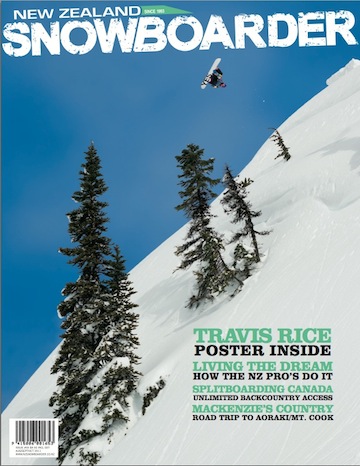 Issue #55-Aug/Sep/Oct 2011
Available on Apple iTunes
( check a preview below )
LIVING THE DREAM…NZ's top riders tell what it takes to ride 24/7.
SPLITBOARD MAGIC… Kiwi rider Scott Heale scores epic Revelstoke thanks to his splitboard setup.
MACKENZIE'S COUNTRY…Nick Hyne and friends hit the road for some of NZ's highest terrain in the Aoraki/Mt Cook National Park.
BLUEGRASS AND POWDERFIELDS…Senior photog Vaughan Brookfield heads to Jackson Hole with a crew  intent on sampling more than just Wyoming's snow!
---
Issue #54-May/June/July 2011
Available on Apple iTunes
Olympus… A Lesson in Priorities.
Nicolas Muller – Interview: One of the Worlds best riders gives his viewpoint.
Buyer's Guide: Check out the latest gear… boards, boots, bindings, goggles and outerwear
Fox Peak: Canterbury's secret club field uncovered.
Jake Koia Poster
Gallery
---
Issue #53-July/August 2010
Available on Apple iTunes
Style Council: Back 900's never looked so good… Kazuhiro Kokubo shows how its done!
The Real Alaska: Shane Orchard and Ruari McFarlane test themselves on the "North Shore" of snowboarding
Freedom: The best of the best
Take It All In: Road trip down south with the Jackway's bros
The Zone: Hyner and crew score a hidden gem in Washington
---
Issue #52-May/June 2010
Available on Apple iTunes
Ruapehu – King of the North: NZ's biggest resort delivers the goods
Stef Zeestraten – Interview: The kiwi Dutchman that flys
Buyer's Guide: It's time to pimp your ride!
Double or Nothing: A closer look at the double cork with Luke Mitrani
Olympics: Kiwis take on the World Stage
Shot: Nuff said…